Guide to Publishing your Hyper-Casual Game
Overview
A Complete Guide to Publishing Your Own Hyper-Casual Game
We've identified that a lot of new game developers don't want to depend on publishers to publish their hyper-casual games. Instead, they are more inclined towards publishing their games on their own.
Self-publishing ensures that they have complete control of their own game development process; that they can take their time to create their game, and not have to worry about meeting harsh deadlines etc. However, most game developers are hesitant to publish their own games because they believe the process is too difficult to take care of on their own.
With this training, we try to take game developers through the process of publishing their own games, by first identifying whether or not their game is good enough, discussing key issues that might arise during the process, and elaborating on what the most important things to consider are. 
Specifically, this training will provide an overview of the following questions:
What are the elements of a good game?
What is a Soft Launch?
Why is Retention Rate important? And how can it be increased?
Which Custom Events can be used to test the game?
What are the elements of a good game?
Most of us are familiar with hyper-casual and casual games because they have become a big phenomenon today. But, what is it that's made them so successful? Voodoo, one of the leading players in the hyper-casual industry, came up with a simple recipe. One of the elements that make the games successful is because they're "snackable." 
What does snackable mean?
We believe these games are also successful because they're "easy to learn and play", which allows them to retain a broad target audience. You can see three year olds, and older people playing the same games and enjoying them! 
Here are some points to make games easy to learn and play:
A quick tip to keep in mind when creating your game is that most people usually want to escape from reality with these games, so you should try and give them this opportunity by create something fantastical, rewarding and addictive.
What are the drivers of a successful game?
For a successful game, it's important to maximize your retention rate and user lifetime value, and minimize your user acquisition cost, time spent on development and testing. If you manage to achieve a good balance here, you have a higher chance of making money with your games!
It's also useful to update a historically popular game concept. We have seen developers achieve great success with their games, not by creating something completely new, but by merging a historically popular/proven concept with a new concept. An example for this is that you can merge two successful games, such as a snake game and a blocks game to make a new concept of 3D games – it's that simple to create a new game!
We have listed down some historically popular game concept categories for you below:
What is a Soft Launch?
A soft launch is a test launch that should be implemented before a global launch. Once you've completed designing a game, a soft launch gives you the opportunity to test it more objectively within your team.
How can a Soft Launch be implemented?
There's a lot of ways to implement a soft launch. We've summarised 3 kinds of soft launches for you in the graphic below. A game needs to satisfy all of these 3 kinds of soft launches to be able to move on to a global launch.
Product Soft Launch
What can I expect to achieve from a Product Soft Launch?
We've listed down a set of points a Product Soft Launch typically helps you achieve below:
How can I get started with Product Soft Launch?
Typically, we believe you should to start with the highest, most competitive market. Facebook is usually the place where publishers try and acquire their most primary users. If you don't survive on Facebook, it is unlikely you will survive anywhere else.
We also believe it's better not to include monetisation at this stage because you are testing retention rate. You can expect the retention rate to decrease after adding monetisation.
Here's a list of key elements to consider for a Product Soft Launch:
What timeline can I follow for a Product Soft Launch?
Monetization Soft Launch
What can I expect to achieve from a Monetisation Soft Launch?
We've listed down a set of points a Monetisation Soft Launch typically helps you achieve below:
How can I get started with Monetisation Soft Launch?
In contrast to the Product Soft Launch, we believe a Monetisation Soft Launch should start from the country that gives you the cheapest monetisation eCPM (effective cost per thousand impressions). Usually, these are countries like Columbia, Mexico, India and Brazil.
Here's a list of key elements to consider for a Monetisation Soft Launch:
What timeline can I follow for a Monetisation Soft Launch?
Typically, we suggest starting off by showing 10 ads, identifying the maximum LTV that can be achieved, and seeing if you can keep a lower cost per install (CPI) in these regions as well. You can keep increasing the number of ads until you notice a drop in retention and conclude that it's not worth displaying more ads.
More specifically:
UA Soft Launch
What can I expect to achieve from a UA Soft Launch?
We've listed down a set of points a UA Soft Launch typically helps you achieve below:
How can I get started with a UA Soft Launch?
Similar to a Product Soft Launch, you want to start out with the most expensive market in the UA Soft Launch.
You want to start high and keep the return on investment (ROI) in mind to see if you're making money and then gradually increase the budget by 10% each day (you can refer to our timeline below). If you increase the budget too fast, it will increase your CPI. Therefore, you want to increase it slowly and keep the CPI under control.
Here's a list of key elements to consider for a UA Soft Launch:
What timeline can I follow for a UA Soft Launch?
Why is Retention Rate so important to achieve success with your game?
We believe that Retention Rate is probably the most important thing to consider when determining whether a game will survive the soft launch process. Therefore, your main focus should be on improving your product continuously so you can retain your customers.
Here's why retention rate is so important:
How can I calculate retention rate?
Most analytics providers measure retention rate differently. You can read about it in detail here.
This is how we measure retention rate:
What is a good retention rate?
This is a frequently discussed topic. In the industry there are 2 kinds of retention rates:
Relative Retention Rate: Where each user has their own "lifetime", as counted in days after acquisition time. Their "birth" is at acquisition on day 0, and day 1 begins 24 hours later.
Absolute Retention Rate: Where a user acquired on May 1st and returning on May 2nd is called a 1-day user. However, if that user was acquired at 23:59 May 1 and returned at 00:01 May 2, they really only waited 2 minutes to return.
Note: We have designed a separate training to help you learn about the difference in retention numbers when using Absolute vs. Relative methods. You can access it here.
Although we believe it's up to the developers personal preferences what metric they use, we prefer using relative retention rates in our measurement. It's also important to understand that relative retention is a harder metric and would always be lower than absolute.
Here's what we believe you should aim for when defining a good retention rate:
Note: The equivalent to Day 1 relative retention of 30% would be a Day 1 absolute retention of about 45%.
However, this does not mean that if you're scoring lower than 30% relative retention on day 1, you should throw out your game. According to us, this is a basic target to keep in mind. And in the event that you're not reaching your target retention rate, there are some things you can do to increase it! (discussed below)
The first step here is to identify some causes for low retention rate.
Causes for Low Retention Rate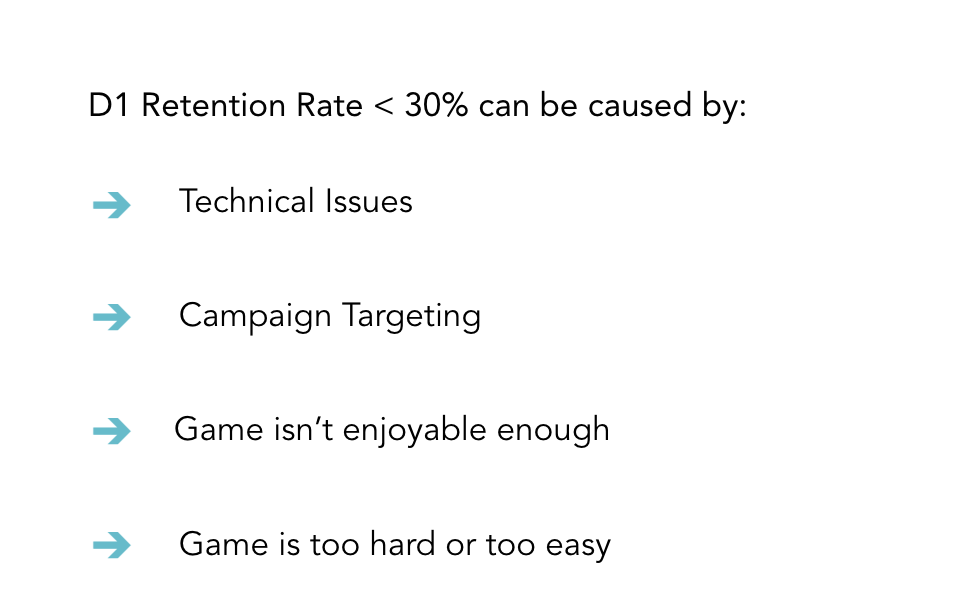 What tips can I use to increase my retention rate?
One issue is that arises often is that some games can not retain users beyond day 7. We've discovered a trick to battle this challenge:
Which Custom Events should be measured when testing your game?
It's important to keep track of custom events (post-install events) to make sure the quality of your games is being checked. This is something you should definitely do at the start of testing your game.
Here are some custom events to measure App Performance:
On the monetization side you can keep track of the following events:
Frequently Asked Questions
In this section, we discuss some frequently asked questions from real users
What do you think the first-time user experience should be like?
This is usually the time when you're really trying to impress the user and not get deleted. There's a lot of different different techniques that have been successful during this time. Some companies try to monetise their games right away to ensure they make their money back. Another trend is to not show any ads at this very beginning stage and make the users feel that they're committed to the game, make them love the game. 
Why do we go from higher CPI to lower in the UA soft launch, and do the reverse with 

monetization

 soft launch?
This is because the US market has the highest CPI in the world, and as a result also the highest LTV. This is a challenge because you make money only when your LTV is higher than your CPI. Your CPI or LTV is not something you can control very easily and if you can find a way to keep your CPI low enough in the US market, it won't be a problem for you to control for the CPI when you scale. In India, for example, it is extremely cheap to monetize a user but you don't want to go from India to the US market and realize you're losing money when acquiring a lot of users.
Can I test all 3 kinds of soft launches at the same time?
It's better if there is a flow i.e. it's better to start with a product soft launch and find out the retention rate of your game before moving on to the Monetisation soft launch. You don't want to start a monetization soft launch on a product that has 5% day 1 retention.
How do I know when I'm ready for a global launch?
Once you've completed all three steps of the soft launches mentioned above, you'll be ready to launch globally. You can specifically target regions where you identified a positive ROI (in the UA soft launch).
Do you still have some unanswered questions? Write us an email here.
Feedback
Do you have any feedback for us?
We at Growth FullStack are always happy to receive your valuable feedback. Whether it's about requesting additional support on optimizing your workflows, building a customized dashboard, or anything else, feel free to reach out to us and let us know how we can support you further.